23 May

Growing up as an Indian Woman in Singapore

[UNEDITED SUBMISSION: ORGINAL POST]

It's almost surreal just writing this and my fingers are already sweating. It feels strange that years of suppressed thoughts are finally taking a tangible form.

Before I go into it, I thought I'd give a quick context of how this piece came about. Recently, I had a bit of a breakdown and suddenly found myself thinking back all the way to when I was in primary school, and the various experiences that impacted my sense of self-worth over the years. There is one specific instance that I recall with great agony.

I was a nine-year-old in primary school, full of enthusiasm and had a desire to try new things. My school's dance teacher walked into class with an announcement stating that she needed to choose more dancers for an upcoming performance and that she was going to choose some of the girls in class. She chose several people. She did not choose me.

Fast forward to a rehearsal of that performance which was performed in front of the whole school. There were five Indian dancers in the group, but they only came out to perform in the last five seconds. This was literally an example of blatant racism because the girls of other races were allowed to dance whereas the Indian girls were not. I felt a sensation through me: the growing bud of disappointment.
As I approached womanhood, the ways in which I perceived my body as an Indian woman started to change. Do I look too dark? How do I know if this dress looks appropriate? Is it okay if I wear shorts? One drawback of growing up as a minority woman is that by default you do not fit beauty standards and thus if you have a tendency to self-deprecate, you view yourself as innately ugly.
I remember how after PE, when everyone gets a tan and a girl who is fair starts complaining about how dark she looks, you realise she says it with you near her. She either doesn't care that you're there or assumes that her remarks aren't offensive because they're true. You feel as if you are supposed to accept the fact that you are ugly because you have brown skin.
The bottom line is that nobody wants to feel ugly. Those of us who do not fit within tightly defined boxes of conventional attractiveness find ways to look more acceptable instead of appreciating our authentic selves. We want to be seen as attractive to other people.
And so the beauty rituals begin. There was something gratifying about getting my eyebrows done or just grooming myself in general, although there were two sides to it. On one hand I felt like I was taking ownership of my body but on the other hand I felt like I was punishing it because threading hurts like shit.
Personally my internal battle reached a tipping point when someone said that my hair in its untamed state with its curls made me look like Medusa. I did not like being told that I looked like Medusa because I felt that Medusa was ugly. But something inside me felt compelled to know Medusa's story.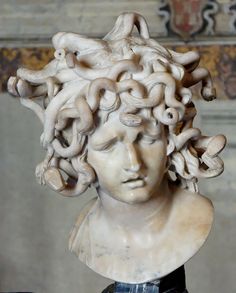 In Greek mythology, Medusa was a renowned beauty and a priestess of Athena, the goddess of war whose looks captivated Poseidon, the god of the sea that he sexually assaulted her. As she was no longer a virgin, Athena curses her and she physically morphs into a monster with snakes in her hair and the worst of it is that whoever looks at her face will turn to stone. Although it might be a bit far-fetched as curly hair may not have anything to do with Medusa's story, being compared to her made me angry.
But after reading her story, I felt for Medusa too and I did not want to disassociate myself from her completely. It was a familiar feeling of being outcast for innate aspects of being a woman-in my case being born as an Indian woman and having these physical attributes. Physical attributes that defined many experiences, listening to a specific discourse, the ways I related to myself, and the ways I related with others. Talking about race in Singapore is in itself a complicated thing, an issue I won't dive into because it's the same story we already know.
I could choose to tame my hair and retreat even further into sadness, or just choose to be confident in my own skin and to assert myself and know my boundaries. I'm 20 now and I've never changed my natural hairstyle simply because I have no desire to. Although I think it is important that I do not view it as a victory as I do not wish to think myself as superior to Indian women who have indeed straightened their hair. Instead I feel more inclined to talk about the inner workings of our minds as people who have these bodies.
Viewing the Indian woman's body with distaste and repulsing its attributes is hurtful and has caused many women pain. Our physical bodies are only a small part of the equation. Our emotional bodies on the other hand stand the test of time. It's often what you don't see that causes hurt. I wish I had the ability to visit myself many years ago and to save that sad child from the remarks of other people, to not feel shitty when I had a tan but I do know that I can choose to look towards the future and trust that I know what's best for myself and my body. To nurse it and treat it with love. To have the ability of not punishing it.
It is understandable that anger is the natural reaction whenever one feels attacked or when someone says that people lack idealism or that we should feel shitty because we don't have porcelain skin. A child grows up an idealist and then is greeted with a world that tells her that she's wasting her time when she dreams. In the movie Spotlight (2015), the lawyer Mitchell Garabedian tells reporter Mike Rezendes that "if it takes a village to raise a child, it takes a village to abuse them". Yet even in the face of such injustice, mindless anger does not lead anywhere. I couldn't tolerate mindless anger towards my own body to begin with. Instead of being cynical, I chose to be kinder to myself. I started going shopping with the intention of wanting to feel good and I no longer view another person's remarks and prejudices as a rejection of my own self. I sow good intentions for myself and trust that it will lead to better things and I chose to go my own way.
I still believe that there's an inner Medusa deep within my psyche, a woman full of hurt and anger who will never completely leave me and will visit me time to time, as it is with the after effects of unpleasant experiences. Despite that, with love I know she will have better days.